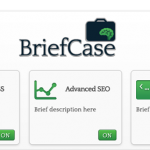 BriefCase now available!
Alex

Getting the most out PressWork!
If you're 1 on the many 1000′s using the PressWork framework why not take advantage of BriefCase?
What is BreifCase?
BriefCase is a suite of advanced plugins for PressWork that comes bundled with all of our premium themes. Briefcase adds extra functionality to help you make the most out of PressWork.
our mission is a simple healthy way of life, to make it easy, efficient and fun.
health
we want you to be healthier, happier and more confident every day you need to be smart, You can look and feel good inside, you need to think us as your healthy friend, and I'm here for you with the inside info you need to look and feel better.